Youth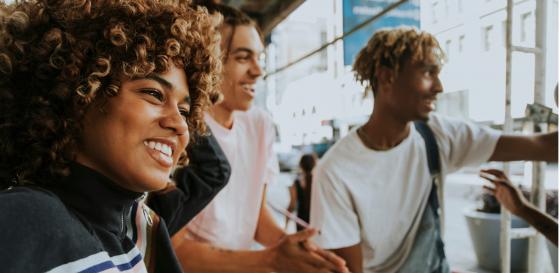 Understanding who they are, loving who they are and having a sense of belonging to their communities are important factors in the positive growth of our youth. We offer a number of programs and projects geared toward helping our young people build their confidence, learn about their identities and deal with challenges they face in day-to-day life.
Enhanced Youth Outreach Worker
Launched in 2018, the Enhanced Youth Outreach Worker program is geared to youth experiencing challenges related to mental health, addictions, trauma, relationship violence, or human/sex trafficking. We provide participants with techniques to help them cope with the issues they are facing and connect them to additional services to help strengthen their self-esteem.
A clinical intervention program for youth 12 to 21 

Connects youth with services within the Region to help them develop coping skills

Over 30 youth served in the first year

Funded by the Ministry of Children, Community & Social Services through the Ontario Black Youth Action Plan
Contact Norvett at 905-455-6789 ext. 108 or email norvett@rootscs.org
Black Leaders of Tomorrow Program
The Black Leaders of Tomorrow program is our youth entrepreneurship mentoring program. We match mentors with youth who identify as Black and who want to become entrepreneurs. Launched in 2018, the program helps youth hone their business skills and provides an opportunity to learn and grow year-round with the support of a Black professional.
Geared toward youth ages 16 to 24 

Matches youth with a business mentor for one year in which youth develop a business plan

Youth who complete a business plan are eligible to win a start-up grant for their business

20 youth participants and 12 matches in the first year

Funded by the Ministry of Children, Community & Social Services through the Ontario Black Youth Action Plan
Learn more about the BLT program and how to become a mentee or mentor...
Contact Tasha at  647-354-7804 ext. 118 or email at tasha@rootscs.org or Felix at 905-455-6789 ext. 111 or mentoring@rootscs.org
Black Youth School Success Initiative
We have partnered with other agencies serving the black community, the United Way Greater Toronto, and Peel District School Board in the Region of Peel to implement the Black Youth School Success Initiative.
A collaboration of agencies who provide wrap-around services to help black youth graduate or be on track for graduation

We provide tutoring and life skills workshops to partnering schools

Funded through a grant from Ontario Trillium Foundation
Batik Art Program - Mississauga
We are offering a Batik art program at our Mississauga office for youth ages 13 to 18 years. Batik is a technique where wax is applied to fabric using water-soluble dyes. Modern Batik technique is a revolutionary repackaged application that enhances the detail of an image on fabric using wax and dyes:
Youth will produce their own unique Modern Batik Art pieces as a result of this program

Program will encourage the use of all learning styles (auditory, visual, tactile as well as leaning needs) to produce meaningful works of self-expression

Diverse uses and adaptations of the Modern Batik Arts prints will be explored. e.g., sewing- cushions, bags, scarves, clothes

Discussions about inclusion, cultural diversity, equity, steps to lifelong learning, cultural humility will also be included as part of this program

Classes held once a week on Thursdays

Partnership with Tapestry Consulting

Run entirely by volunteers
"The Black Leaders of Tomorrow program has been a fantastic experience for me. I was matched up with a phenomenal mentor who is in the same space that I aim to be in. She's helped me so much with branding, networking and building my business. This program has also connected me with other young black entrepreneurs in the city, which is amazing. We've also been able to go to workshops and events that can only be accessed through the mentorship program. I look forward to graduating and becoming a mentor myself. Thank you."
"I'm grateful I joined the Black Leaders of Tomorrow program. It helped me consider a career that I have a passion for, and has opened many doors and opportunities. This helped me a lot. I thank Roots Community Services for offering this program – I can guarantee it will help many black youths achieve their ideal career."
Make a difference!
We cannot do it alone and so rely on you – our funders, donors, volunteers – to help us build a strong community that holds a brighter future for our children and youth, a peaceful place for our seniors, and a safe and clean environment for everyone. There are a few ways you can help to make a difference. Which one will you choose?
Get Involved